Sens Collection is a brand created in 2008 by a couple of Belgian entrepreneurs ; Didier and Nathalie. Following the creative impulse sparked by the launch of the Bûche d'Ambiance®, the range is rapidly expanding to become a collection of crackling scented candles exceeding 100 references.
At the end of the 80s, driven by the passion of their forest region and fans of wood's nobility, Didier and Nathalie created at the strength of their motivation, a Christmas trees nursery among the most important of the country, always running today...
20 years later, they are putting their heart and soul into a new challenge: developing a Haute Couture range of outdoor and indoor products for demanding amateurs. To this day, to our knowledge, our XL candle with 7 wood wicks is unique in the world.
Sens Collection candles are designed with the refinement and opulence to offer the most comfortable relaxation. That's why each collection is imagined and developed with care by a team on a human scale headed by Didier and Nathalie who are still involved in the creative process of the brand.
With their sophisticated and subtle fragrances, different editions of Sens Collection tell, in perfume, escapades around the world or evoke moments of olfactory wonders. Escape to Morocco with our "Perles de Marrakech" or take a walk under the coconut palms of "Bahamas". Enjoy an hour by the fire with "Bois de Sens" or succumb to the modern complexity of "Design". There's always a Sens Collection fragrance to take you to an exquisite scented odyssey.
In 2015, Sens Collection also established itself in the field of sensory marketing and professional olfactory ambiance by developing a range of Home fragrances for professional diffusers By Sens
For outdoor events, Sens Collection offers a unique and patented concept. During bonfires with friends, Didier decides to create a fire that he could carry everywhere with him. That's how he invented the Bûche d'Ambiance®. A ready-to-use woodfire consisting of a birch log, a candle to lighten and a handle for easy transport. It allows any lover of quality outdoor atmosphere to recreate the warm mood of a wood fire in his garden, his yard or on his balcony ....
All Sens Collection's collections are hand-assembled in workshops located in Belgium. The candles are hand-poured and the development of our perfumes is entrusted to the master-perfumers of Grasse. The brand is carried by a family business whose team wants to be available and passionate.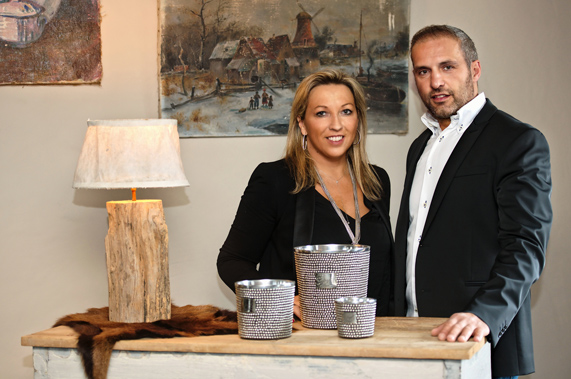 Thank you for surfing our site, we wish you a nice visit!
Nathalie & Didier.